When we had our beagle, we would walk through the park and people would always comment to us, "Hey it's Snoopy!" I've never thought Snoopy looked very much like a beagle, and Jera didn't look very much like Snoopy, because she was mostly brown. Zoey had a lot more white and black on her (only brown on her face), so I could see the resemblance more.
The other day, Paul mentioned to me how the Peanuts comic stripped changed style a lot from the beginning (as is true with most comic strips). We are used to seeing Snoopy as this:
However, in older comic strips he is drawn with a closer resemblance to a beagle: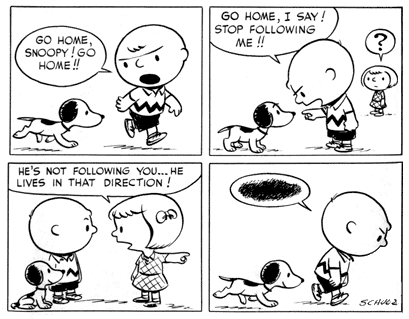 His more pointed nose in the early strips look more like a typical beagle.
You can see from the picture that it Zoey had a "black patch" on her back that was similar to Snoopy's, though much bigger. However, I think that Snoopy having an all-white face and only dark ears is more atypical, though certainly not impossible! The white face probably translated to black-and-white drawings better than if he had given Snoopy a multi-colored coat.
---------------
This post brought to you by
mover NYC